Britain. Are you doing okay? Your political debates have seemed crazier and crazier recently. For instance let's look at the latest thing that's had everyone scratching their heads: the 'gammon.'
1. Now you're probably thinking: what has gammon got to do with anything political?
normal countries watching Britain's political discourse pic.twitter.com/NrISafcFgc

— Ellie Mae O'Hagan (@MissEllieMae) May 14, 2018
2. Well, funny you should ask.
Is the term 'Gammon' racist?
I kid you not…it is our #TalkingPoint 9:30am @skynews #Sunrise with @MartinDaubney (yes)@mattzarb (no)
The phrase is being used in politics to ridicule middle aged white men. pic.twitter.com/Yxh8yJdfRs

— Sarah-Jane Mee (@skysarahjane) May 15, 2018
3. Luckily, someone chose to explain it… from inside Parliament.
Somebody from Parliament edited the 'Gammon (meat)' Wikipedia page to brilliantly summarise the recent debate around the political usage of the term.

Unfortunately, the update was apparently too close to the bone, and lasted just 2 minutes before it was deleted. pic.twitter.com/umZAvqK5NH

— Evolve Politics (@evolvepolitics) May 15, 2018
4. So basically angry, racist men. And we've apparently had them for ages.
Chortle #gammon pic.twitter.com/ICbsJfeCfR

— shortbreadüberwensch (@verilyberrily) May 15, 2018
5. Needless to say, once it hit Twitter, things got out of hand fast.
"Well you can tell by the way I use my talk
I'm a gammon man
I'm made of pork" pic.twitter.com/4Q56nNLbYL

— James Felton (@JimMFelton) May 14, 2018
6. It's when conservatives decided it was racist that the memes REALLY took off.
Right to the heart of the matter. pic.twitter.com/AZiRAcB4zq

— Stephen Paton (@stephenpaton134) May 15, 2018
7. Account Gammon Points has been collecting some of the most amazing examples.
It's important to remember and laugh at one of the greatest gammon comments of all time. pic.twitter.com/ZG0KRE1ReA

— Gammon Points (@TheGammon) May 16, 2018
8. And there's some beautiful poetry, too.
I've written a poem it's called
Don't be a Gammon
another world is possible pic.twitter.com/7UDI17PGNh

— ARTIST TAXI DRIVER (@chunkymark) May 16, 2018
9. Matt Zarb-Cousin, who helped popularize the word, looks confused when he was asked to explain what 'gammon' means on Sky News.
10. Luckily some people are being civil.
I would never use 'gammon'. It's just not kosher.

— David Schneider (@davidschneider) May 14, 2018
11. But really, this is just getting ridiculous.
laughing at people saying gammon is racist before remembering it's part of the wider decay of our political discourse pic.twitter.com/syfbc7DXuD

— Ellie Mae O'Hagan (@MissEllieMae) May 13, 2018
12. This can only lead to one thing.
Supermarket to replace 'gammon' references with the 'g-word' after complaintshttps://t.co/away8eiYL5 pic.twitter.com/LuprQrCCMQ

— Daily Squat (@DailySquat) May 15, 2018
Keep at it, Britain, you're on a roll.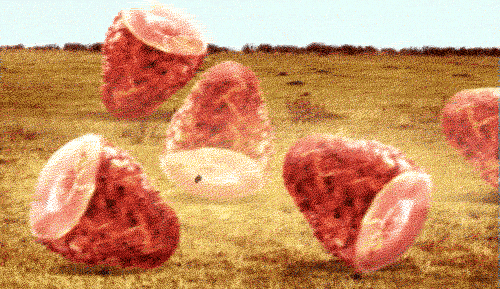 Follow us on Instagram for more gems from social media!