Podcasts are huge. Sometimes it feels like every other person has one. Fortunately, not everyone takes them very seriously.
1. That podcast would slay.
Are there any good True Crime podcasts where the hosts are actually murderers?

— Jensen Karp (@JensenClan88) May 27, 2017
2. Sometimes you just don't have a choice.
[a deer jumps in front my car but i manage to stop in time to not hit it]
DEER: hey check out my podcast
[i press my foot back on the gas]

— Bob Vulfov (@bobvulfov) August 30, 2017
3. There's just so much going on.
"Wow, what a naive world they lived in way back then"

-Me listening to any political podcast recorded more than 12 hours earlier.

— Jesse McLaren (@McJesse) April 7, 2017
4. It'll be someone else's cross to bear.
One thing I will DEFINITELY include in my will is all the podcast episodes I never finished listening to. Somebody must shoulder the weight.

— Aparna Nancherla (@aparnapkin) April 2, 2017
5. "Sorry, Garçon…" will be available on iTunes soon.
When you're about to do a podcast about the joys of sending food back at restaurants. pic.twitter.com/ByvFNvzbLM

— Vanessa Ramos (@thatRamosgirl) July 26, 2017
6. Damn it, Kevin.
Obama said the "N-word" on a podcast?? Guess we know who the REAL racist is now!!

(It's my uncle Kevin)

— rob delaney (@robdelaney) June 22, 2015
7. Amen.
Hey lady on the train listening to a Jesus podcast through your phone's speakers: have you heard the good news? They've invented earbuds.

— Paul F. Tompkins (@PFTompkins) May 8, 2016
8. Considering the vast number of podcasts out there, it's safe to say most friendships don't make it to the highest level.
The 2nd highest level of friendship is: "This conversation should be a podcast!"
The highest is: "No one can know of this conversation."

— Josh Gondelman (@joshgondelman) April 9, 2016
9. Like the old saying goes…
give a man a fish & he'll eat for a day but teach a man how to do a podcast & he'll never stop asking you if you've listened to it yet

— Aparna Nancherla (@aparnapkin) September 30, 2015
10. Hopefully they'll be able to catch these maniacs.
just found out that there are ppl who listen to podcasts at double speed so they can "consume twice the content" and then immediately called the police

— KT NELSON (@KrangTNelson) November 12, 2017
11. Podcastism is a rapidly growing religion around the world.
I believe that when we die, we all become podcasts.

— Conan O'Brien (@ConanOBrien) November 12, 2017
12. Some kids are wise beyond their years.
7-year-old: Do you have a podcast?

Me: Do you even know what a podcast is?

7: It's that thing where you talk to yourself and no one listens.

She knows exactly what a podcast is.

— James Breakwell (@XplodingUnicorn) November 21, 2017
13. A murder of crows, a pack of wolves…
what is the collective noun for a group of white male journalists

— Mollie Goodfellow 🤶🏻 (@hansmollman) November 20, 2017
A podcast https://t.co/nQM4qglbpJ

— Parker Molloy (@ParkerMolloy) November 20, 2017
The mantra for 2017: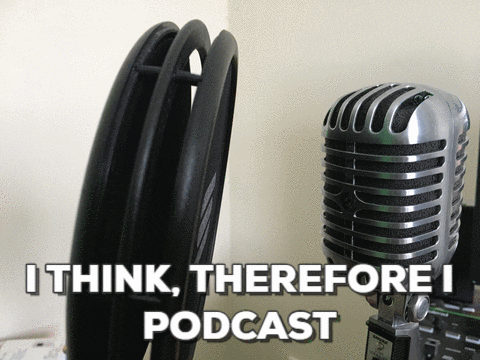 This article originally appeared on our Dutch sister publication.
Follow us on Instagram for even more – that's right, EVEN MORE – social media goodness!