It's a not a bad time to be a comic book movie fan. Yesterday the new trailer for Deadpool 2 dropped, and next week Black Panther will be released in theaters. Sony thought this would be a good time to drop the teaser trailer for another hotly anticipated Marvel movie: 'Venom,' starring Tom Hardy. The reactions are probably not what they were hoping for…
1. Watch the teaser trailer here and judge for yourself.
We. Are. #Venom. October. 🕷 pic.twitter.com/0sRGPiBNFS

— Sony (@Sony) February 8, 2018
2. A lot of people are slightly disappointed with what they saw.
My advice to @SonyPictures after watching the #Venom teaser. @VenomMovie pic.twitter.com/WN3JAbePUp

— The Sports Retorter (@its_just_chris) February 8, 2018
3. Because, well…
When you realize Venom isn't in the Venom trailer. pic.twitter.com/3Ywb473T3a

— GameSpot (@gamespot) February 8, 2018
4. People are seeing a flop coming…
Venom is gonna bomb in theaters.

— HoustonProductions1 (@Blockbustedpod) February 8, 2018
5. It's hard to describe, really.
THE VENOM TRAILER: "There's a guy. And he's on the run. And s… something has happened, and boom dramatic music, and motorcycle, and… mm, lotta, you know, lotta grr, oh no."

ME: "Is there any Venom in it?"

TRAILER: "No, but it's cool, it's — wow, some shit's happening."

— Chuck Wendig (@ChuckWendig) February 8, 2018
6. Accurate.
That Venom trailer looks like the trailer for a movie about a man whose really anxious about getting an MRI

— BrilliantVillain (@IntergalacticQ) February 8, 2018
7. We, however, got an exclusive look at what Tom Hardy looks like as Venom:
*Record Scratch*
*Freeze Frame*

(extremely Tom Hardy New Yawk VENOM voice) Yup, that's me. You're probably wondering how I ended up in this situation pic.twitter.com/3WjEllZT4f

— Scott Wampler™ (@ScottWamplerBMD) February 8, 2018
8. It is a bit confusing.
*Let's debut a Venom teaser without showing Venom*

The Internet: pic.twitter.com/e8kpehvj6l

— Matthew A. Cherry (@MatthewACherry) February 8, 2018
9. He was in the Spider-Man 3 teaser, but not in the one for his own movie.
When Spider Man 3 showed more Venom than the new teaser. pic.twitter.com/RTf03zZsI1

— Mr.Gojira95 (@MrGojira95) February 8, 2018
10. This *may* have something to do with it.
I can't believe we couldn't see Venom, a full CGI creation, in the teaser when they just finished filming two weeks ago so we can complain about about the bad CGI 8 months before release

— JamesMan (@TheOnlyJamesMan) February 8, 2018
11. At least people are already looking forward to seeing more Tom Hardy.
Tom Hardy as Venom is already iconic pic.twitter.com/QbTW4RZvrB

— stella didn't survive the infinity was trailer (@tonysassb) February 8, 2018
12. But really.
If someone doesn't redub all of Venom's lines with Bane dialogue, why even have an internet.

— Ryan Higgins (@RyanHigginsRyan) February 8, 2018
13. Now THAT would be a twist.
It'd be amazing if Venom wasn't in this movie, and Tom Hardy just played a guy named Rick Venom or something. https://t.co/ZeNfilTqjT

— Matt Singer (@mattsinger) February 8, 2018
14. Like it or not, it's still a good week for fans of comic book movies.
First a Deadpool trailer & now Venom. Hot damn, what a week! pic.twitter.com/4YWqQPzPzk

— Gajan Kulasingham (@gogogajman) February 8, 2018
15. At least there's this.
The new Venom trailer is awful, but at least Tom Hardy has given us a GIF that visually explains what it feels like to try and rationalize with Trump voters. pic.twitter.com/ixlePeyoSI

— Adam Best (@adamcbest) February 8, 2018
16. And finally, for some perspective…
Maybe the REAL Venom…

is us.

— Shen (@shenanigansen) February 8, 2018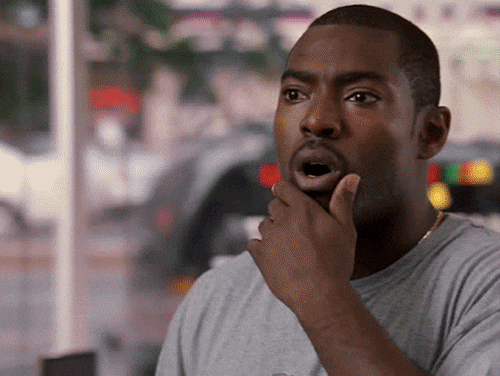 (Header image via)
Follow us on Instagram for more gems from the world of social media!