It's one of the most exciting moments of the year for movie fans: the Oscar nominations have been announced. This is obviously followed by the usual emotional rollercoaster on Twitter…
1. These films are nominated for Best Picture. Check out the full list of nominees here.
Congrats to our Best Picture nominees! #Oscars #OscarNoms pic.twitter.com/xtA8OaUemp

— The Academy (@TheAcademy) January 23, 2018
2. As always, some complaints about movies getting snubbed are more reasonable than others.
Transformers: The Last Knight and The Mummy were snubbed. Monster Trucks too. #OscarNoms

— Nolan Dean (@nolandean27) January 23, 2018
3. But a lot of nominations are perfectly understandable.
Can't really argue with that selection. #OscarNoms #Oscars2018 #BossBaby pic.twitter.com/vch539ZNrX

— Parker Molloy (@ParkerMolloy) January 23, 2018
4. A little perspective:
The Boss Baby now has more #OscarNoms than Donald Sutherland, Terry Gilliam, Peter Lorre, Danny Glover, Robin Wright, Sergio Leone, Mia Farrow, Gong Li, John Barrymore, Jim Carrey, Toshiro Mifune, Rob Reiner Scarlett Johansson Alan Rickman Marilyn Monroe & Buster Keaton combined.

— John Fugelsang (@JohnFugelsang) January 23, 2018
5. No joke here, this is just ridiculously impressive.
John Williams has now been nominated 51 TIMES for an Oscar after his nomination for 'Original Score' #OscarNoms

A LEGEND. pic.twitter.com/7dKAqiKLWN

— Star Wars Stuff (@starwarstuff) January 23, 2018
6. The call for more inclusivity remains strong…
Another year, another all-woman #OscarNoms list for best actress. When will men be given a chance?

— Thomas "TomSka" Ridgewell (@thetomska) January 23, 2018
7. Meanwhile, Greta Gerwig and Jordan Peele are killing it.
both made their feature film debut last year… they are now Oscar-nominated filmmakers with their film debut, which they also wrote, also being Oscar-nominated. AMAZING #OscarNoms pic.twitter.com/S2BJqgbbUD

— kyra (@danieIdaysIewis) January 23, 2018
8. Peele could barely Get Out a word from all the emotions.
— Jordan Peele (@JordanPeele) January 23, 2018
9. So many emotions.
I just spoke to Daniel. You know when you're on the phone trying to disguise the sound of an ugly cry? I failed at that.

— Jordan Peele (@JordanPeele) January 23, 2018
10. Not everyone agrees Get Out deserves its nominations, but…
When people say Get Out didn't deserve an Oscar nomination.
#OscarNoms #Oscars #GetOut pic.twitter.com/ucoXEQmseY

— Cameron Grant (@coolcam101) January 23, 2018
11. Presenter Tiffany Haddish had some trouble pronouncing Daniel Kaluuya's name…
Tiffany Haddish: And the nominees for Best Actor are: Daniel Callalooya-Kaboya-Whatever y'all know his name.

Me:#OscarNominations #OscarNoms #Oscars #GetOut pic.twitter.com/jV4vS9kxaV

— Shane Ravello 🇹🇹 (@ShaneRavello) January 23, 2018
12. Mary J. Blige fans are over the moon.
I picked the wrong day to lie to myself about eating healthy. Mary J. Blige's #OscarNoms requires celebratory alcoholic beverages and chicken wings.

— ᴅᴏʟʟᴀʀ (@callmedollar) January 23, 2018
13. But one specific person may be a little bitter about it.
Mary J. Blige is the first person to be nominated for Best Original Song and Best Supporting Actress in the same year. Barbra Streisand just threw a beige pillow at a French door.

— Louis Virtel (@louisvirtel) January 23, 2018
14. M&M's did get an omnomnomination, though.
Still waiting on my nomination like… #OscarNoms #Oscars2018 pic.twitter.com/kGo2cb4z3n

— M&M'S® Brand (@mmschocolate) January 23, 2018
15. Jessica was confused by the hashtag as well.
What I thought when I saw the hashtag #OscarNoms 🤷🏼‍♀️ pic.twitter.com/NZcWMWLRuu

— Jessica Joyce (@Jessica_Joyce) January 23, 2018
16. Just so many great food jokes.
Today's the day for #OscarNoms! pic.twitter.com/JapbhzqTdS

— One Room With A View (@1RoomWithAView) January 23, 2018
17. Even Sesame Street gets in on the action.
Ya wanna know some #OscarNoms? Pickle ice cream. That's a grouch's favorite! pic.twitter.com/qtMh0FWVen

— Oscar the Grouch (@OscarTheGrouch) January 23, 2018
Let's all give a big hand to all the nominees!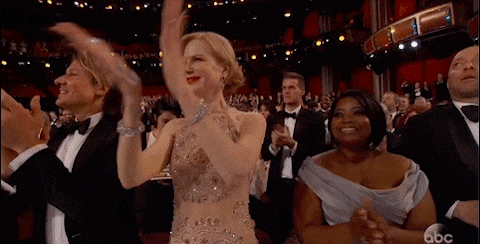 *header image via ABC News on YouTube
Follow us on Instagram for more gems from the world of social media!