When you're writing an article about famous people… make sure you use the right picture.
1. Yahoo made a tiny mistake…
2. Actress/DJ Ruby Rose has a idea of how it went down.
"Despite being wildly famous" 😂😂 "The couple are so private they have asked we use this photo to represent the family and the twins"

— Ruby Rose (@RubyRose) January 17, 2018
3. But Anna's own explanation is probably more realistic.
I realize the confusion probably came from the two Anna K names, but she's a tall blonde athlete and I'm – oh, oh – do they think I'm the baby?

— Anna Kendrick (@AnnaKendrick47) January 17, 2018
4. Liz has a different theory.
maybe they got confused because they saw how much vodka you can drink and assumed you were Russian

— liz (@sparksflyliz) January 17, 2018
5. And it's not appreciated.
SHUT UP LIZ NOBODY ASKED YOU OMG

— Anna Kendrick (@AnnaKendrick47) January 17, 2018
Come on, Liz…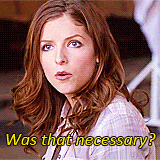 *header image via Anna Kendrick on Twitter.
Thanks for the tip, Evert!
Follow us on Instagram for more gems from the world of social media!